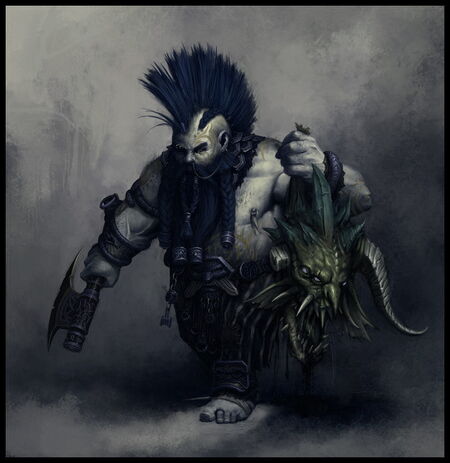 Vital Information
Edit
Nicknames
Edit
Remmy; Mordre keeps trying to make "Armrest" happen, but it's not happening.
Male.
190.
Description
Edit
Remmy is short, even for a dwarf, topping out at just over 4 feet tall. Around 210 lbs, he is a dwarf-shaped ball of lean fighting muscle. Despite approaching middle age, he keeps his dark, almost blue-black hair in the typical youngster mohawk though no one knows how he gets it to stand up like it does. His hair torso and arms are covered in ritual scars and he has many piercings all over his body.
Alignment
Edit
Lawful Neutral.
Veloria (earth aspect).
Personality
Edit
Remmy is loud and boisterous. He's not one to dwell on a particular topic for long and will forcefully change the coversation once he's done talking about something. His preferred method of dealing with even the slightest dispariaging remark or unwanted action is immediate, violent, and outlandishly gory threats. He has a particular love of gemstones and can be easily placated by a gift of a precious stone. He has a very strongly defined sense of personal honor and will not violate this code, though he never explains it and it seems to be extremely convoluted to others witnessing the dwarf's actions. He is also fiercly proud of his Rockeater clan lineage, and works to uphold the traditions of being the most dangerous dwarves on the battlefield.
A short attention span and shorter temper make planning around Remmy somewhat problematic, given his tendency to rush in screaming at the top of his lungs and swinging his sword. Also his greed for gemstones keeps him from being a particularly moral man.
Hroar - father, Asfridur - mother, Fridur - paternal grandmother, Vidar - younger brother.
19th of Golloroc, 110 Unification, AM.
Background
Edit
Remmy's parents, Hroar and Asfridur, were berserkers in their youths, until Hroar took a boulder from a giant to the knee. Young Remmy would sit enraptured by his father's tales of battling giants and dragons and the fabulous hoards of wealth they would have. Determined to make his parents proud of him, he became a berserker and joined an (ultimately ill-fated) adventuring company who specialized in exploring underground caves and ruins.
Adventuring Information
Edit
Sub-Class
Edit
None.
Prestige Class
Edit
None.
Signature Equipment
Edit
None.
Adventure Notes
Edit
He was the only survivor of the Cavern Echoes, an adventuring group that were all slain by the cult of Maramaga in the cavern of Hrazad-kul.
Ad blocker interference detected!
Wikia is a free-to-use site that makes money from advertising. We have a modified experience for viewers using ad blockers

Wikia is not accessible if you've made further modifications. Remove the custom ad blocker rule(s) and the page will load as expected.