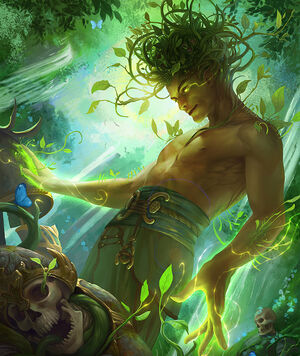 Hierophant
Profession
Edit
Leader of the druids, hierophant of the wyldlings
Ilanari is the fifth child, and fourth son of Zafara Bladesong. From a young age he was unlike his siblings, always outdoors, sneaking away to the gardens or nearby jungle. He soon developed a relationship with the nearby wild elves, ones first awakened by Zafara, and studied druidism under their tutelage. He became a master of the class during the Culling, specializing in plants, and then a Verdant Lord. Through the Culling and into the Era of Heroes, he was ruler of the wild elves. When Sangaia ascended and changed the wild elves into wyldlings, he became their hierophant and co-ruler with Tessa.
As one of Zafara's children, Ilanari is allowed to visit Lea Monde, and has studied the evolution of plants there. Ilanari wandered the world healing the land during the Culling, and learned every plant in the world. He has even brought back extinct (plant) species.
Ilanari is technically a plant, but he sometimes takes on the guise of his former meiva elf self.
Ad blocker interference detected!
Wikia is a free-to-use site that makes money from advertising. We have a modified experience for viewers using ad blockers

Wikia is not accessible if you've made further modifications. Remove the custom ad blocker rule(s) and the page will load as expected.