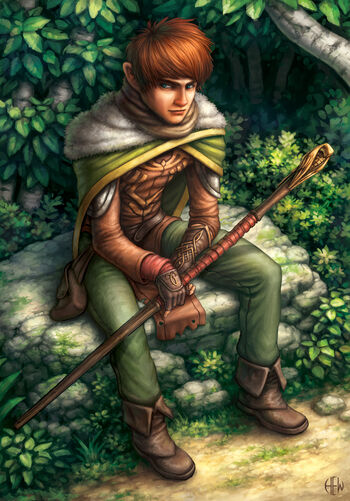 Vital Information
Edit
Nicknames
Edit
Kel.
Male.
17.
Description
Edit
Kel is a skinny kid of 17. He is a little tall for his age at 6'6". He has average skin that is tanned from countless hours under the sun, teal colored eyes, and a shock of messy orange hair on his head. He prefers to wear neutral browns and greens, and the fanciest piece of clothing he owns is a nice traveling cloak. Other than a crossbow and a walking stick, he carries no weapons.
Alignment
Edit
Neutral Good.
None.
Personality
Edit
Kel is best described as naive. Though this is in part true, it would be more true for him to be described as curious to a fault. He is always interested in new things and new sights, and is easily distracted by something shiny and new. He is also nice to a fault, and believes that everyone is worth getting to know. He is easy going and suffers a debilitating streak of wanderlust. Because of this he is rarely seen in the same place twice, preferring to wander all over the globe with his girlfriend Trixie.
Kel's curiosity has always been named as his downfall. Between that and his overly friendly attitude, he is easily duped into walking into dark alleys with strangers, or otherwise putting himself in unnecessary danger.
Ostensibly from Lados, though he claims not to remember where exactly he grew up. Talking about it depresses him, so he tries to avoid the subject.
None known.
The exact day, month, and year are unknown. However, he was last seen during the Era of Heroes.
Background
Edit
Kel was traveling on the Man Eater to the hidden isle of Ractus so that he could visit the sage Mnemnosyne. While aboard the ship, he met with Reggie Sinclair and Tenkosh Ironweave and joined them for a time. However, he parted ways with the dukes of Kirsvald along with Trixie and were last seen heading west.
Adventuring Information
Edit
Mage.
Sub-Class
Edit
White (Oracle).
Prestige Class
Edit
None.
Signature Equipment
Edit
None.
Adventure Notes
Edit
After hearing stories of Aiel, the First Dragon, from Reggie Sinclair while on Ractus, he became intrigued with the story of the original dragon. This led him to eventually track down the storied Globe of Aiel, a key component to Reggie's campaign to stop Kahlia Durath's plans.
Ad blocker interference detected!
Wikia is a free-to-use site that makes money from advertising. We have a modified experience for viewers using ad blockers

Wikia is not accessible if you've made further modifications. Remove the custom ad blocker rule(s) and the page will load as expected.