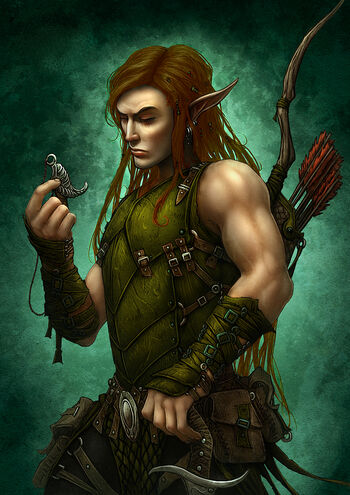 Vital Information
Edit
Nicknames
Edit
None.
Male.
984.
Description
Edit
Lakullus is a bit short for an elf, standing around 5'8", with a very lithe build. His skin is tanned and rugged from all of his time outdoors. With dark brown eyes and earth-toned hair, he does not look much like the typical elf or even the typical fey. Before the ascension of Sangaia, he was one of the reclusive wild elves. The wave of divine power affected him differently than his kin however. He wears sturdy leathers in earthy greens and browns, and carries his signature sylvanwood bow always.
Alignment
Edit
Chaotic Good.
Personality
Edit
Lakullus is quiet and reserved, preferring to keep conversations short and to the point. He is a man of action rather than words, and is more comfortable doing than discussing. He is kind hearted and loyal to his friends, and often takes it upon himself to protect them by scouting ahead and patrolling or keeping watch during camps and the like.
He is a loner by nature, and doesn't work well with others. This is compounded by his preference of keeping quiet and answering questions with a curt word or two.
Southern Elaysm.
Ivan, his lover.
23rd of Hiriloc, 2249 Culling, NA.
Background
Edit
Being born during the Era of Culling, he didn't so much decide to become an adventurer as he simply learned how to survive in his swampy home town. The wild elven town was constantly under attack from all directions by the forces of the Enemy, and Lakullus learned how to survive in the swamplands for weeks at a time when he would lead groups of attackers away.
Adventuring Information
Edit
Ranger.
Sub-Class
Edit
None.
Prestige Class
Edit
None.
Signature Equipment
Edit
A bow of sylvanwood.
Adventure Notes
Edit
While protecting the Carrion Swamp west of the Towers mountain range, he encountered Reggie Sinclair and company. Originally agreeing merely to guide them through the swamp, in the end he agreed to join them. He provided Kirsvald with a capable scout and protector for some time, and remains there now with Ivan.
Ad blocker interference detected!
Wikia is a free-to-use site that makes money from advertising. We have a modified experience for viewers using ad blockers

Wikia is not accessible if you've made further modifications. Remove the custom ad blocker rule(s) and the page will load as expected.