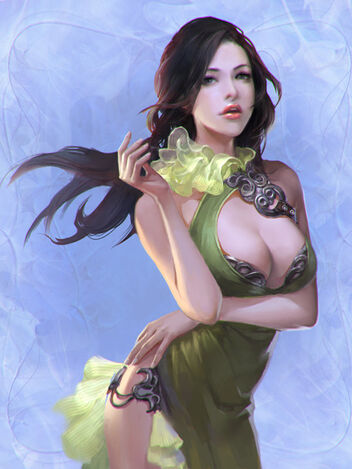 Lilyth was the goddess of excess, especially lust, and was Venir's queen. She has since stepped down and is living quietly in Sendrellar, though rumors whisper of her imminent return to godhood.
The Beautiful Stranger.
Current Status
Edit
Retired.
Alignment
Edit
Neutral Evil.
A spiralling eye with a downward pointing arrow coming out of the bottom that is crossed by another small line.
Portfolios
Edit
Fertility, Luck, Wealth.
Era of Ascendance
Edit
Typical Worshippers
Edit
At first Lilyth's worshippers were primarily whores, though over time her influence extended to bankers, politicians, and anyone with a lust for... anything.
Avatar Description
Edit
A pale, raven-haired, cherry-lipped seductress. She was usually seen with barely-concealing clothing covering her ample womanly assets.
Known Artifacts
Edit
None.
Associated Holidays
Edit
None.