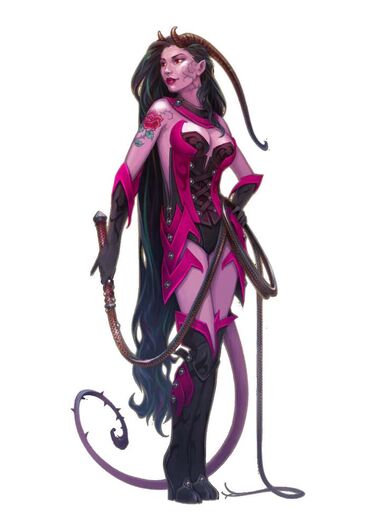 Vital Information
Edit
Nicknames
Edit
Mel.
Female.
She appears to be in her late twenties.
Description
Edit
Melody is 5'4" tall with a slim but voluptuous figure. Her skin is fuchsia in color and she has long raven locks and cerise-colored eyes. Her horns swoop back and curve upward at the points, and her tail has a heart-shaped fin at the tip. She wears beautifully crafted frilly dresses that she designs herself.
Melody bears a resemblance to Megan Fox.
Alignment
Edit
Neutral Good.
Personality
Edit
Melody is kindhearted and generous, a far cry from the rest of her species, especially those rare few raised in Hell. She can also be too naive and trusting, however, which has had others take advantage of her kindness before. Still, she never lets this get her down, maintaining her positivity through and through, and always willing to give everyone the benefit of the doubt. Melody enjoys the finer things in life, such as haute fashion and cuisine, and loathes getting dirty or performing any hard labor. When forced into such situations she can quickly drive even the most stoic to extremes with her whining.
Melody's flaws are her naivete and her disdain for hard work which results in childish behavior such as whining, tantrums, and even baby talk.
Melody is originally from northern Lados, but was raised in Phlegethos, the 4th layer of Hell.
Demi Oran, adoptive sister.
Background
Edit
Melody joined up with Reggie Sinclair and Tenkosh Ironweave after meeting and following Sigvardr on his quest to find his brother. She stayed on with the dukes throughout their campaign, leaving shortly after its conclusion to pursue her dream in fashion design. She had been in a relationship with Sigvardr, but it ended during the campaign.
Adventuring Information
Edit
Sub-Class
Edit
Archfey patron.
Prestige Class
Edit
None.
Signature Equipment
Edit
Melody's clothing changes often, and sometimes multiple times per day. The one constant throughout her adventuring career was her spiny whip, Rosethorn.
Adventure Notes
Edit
Melody assisted Reggie throughout his campaign, leaving his side after its completion to pursue her own career.
Ad blocker interference detected!
Wikia is a free-to-use site that makes money from advertising. We have a modified experience for viewers using ad blockers

Wikia is not accessible if you've made further modifications. Remove the custom ad blocker rule(s) and the page will load as expected.