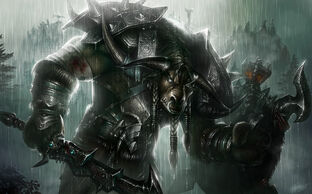 Mylax was the minotaur god of the forge, strength, and craftsmanship. He forged with nothing but his hands, and oftne by simply reaching into a block of metal or stone and pulling out the desired item, forcing it to forge itself according to his will. He was also known for being a little rough around the edges.
The Silverarm, The Cursing Bull.
Current Status
Edit
Deceased.
Alignment
Edit
Lawful Neutral.
A muscled silver arm clutching a blacksmith's hammer.
Portfolios
Edit
Crafts, Labor, Minotaur, Strength.
Era of Ascendance
Edit
Typical Worshippers
Edit
Most craftsmen worshipped Mylax, but especially metalsmiths. He was also favored by the minotaur people, from whose ranks he ascended.
Avatar Description
Edit
A huge minotaur of dark brown, nearly black fur, typically clad in thick, heavily spiked armor.
Known Artifacts
Edit
None.
Associated Holidays
Edit
None.
Ad blocker interference detected!
Wikia is a free-to-use site that makes money from advertising. We have a modified experience for viewers using ad blockers

Wikia is not accessible if you've made further modifications. Remove the custom ad blocker rule(s) and the page will load as expected.