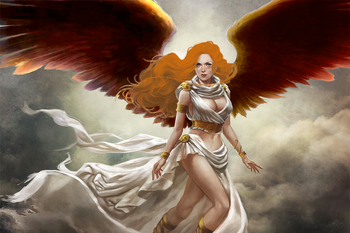 Vital Information
Edit
Nicknames
Edit
Sera, Saint Seraphine, The Keeper
Female
2204
Description
Edit
Seraphine is 5'8" tall with a slim athletic build, pale peach skin, and long, loosely curled pink gold- or copper-colored hair. Her eyes are smoky gray like the sky before a severe thunderstorm, and her feathery wings match her hair color. She is pleasing to the eye (bearing a resemblance to Natalie Portman), and wears a white toga-like robe with shimmering accents that match her hair and wing color, with wooden sun-shaped toggles similar in design to her staff.
Alignment
Edit
Lawful Good
Personality
Edit
Seraphine is typically compassionate, charitable, humble. Every virtue one would attribute to a saint. However, when it comes to upholding the law and defending the weak, smiting evil, she can be zealous and relentless, and may rush headlong into the fray to uphold her ideals. However, she is nothing if not merciful, even if the virtue comes to her with difficulty.
None
Llehir
None
20th of Extraxioc (present day Golloroc), 1029 NA, Exploration.
Background
Edit
Seraphine spent most of her life before the Culling as a priestess at the temple of Emprix in Siburul. When she began adventuring she took a vow of poverty, and her charity did not go unnoticed by Emprix, granting her many boons. Seraphine has since become sustained entirely by faith. When the Culling began, Seraphine was chosen to guard the life of the Thera, the high priestess of Meyne, a task which ultimately resulted in the loss of her life. Her sacrifice did not go unrewarded, and she was returned to life by Emprix, and nursed back to health by Thera. Her sacrifice was also rewarded by the church granting her sainthood. Seraphine remained with Thera through the Culling, the latter shielding her from the onslaught of the undead as she went through the loss of her goddess. Seraphine is now The Keeper, the guardian and custodian of The Reliquary, which houses the sacred artifacts of gods and goddesses present and past. She is also looked to as a religious icon for those who once followed Emprix.
Adventuring Information
Edit
Cleric
Sub-Class
Edit
Zealot
Prestige Class
Edit
Unknown
Signature Equipment
Edit
A plain ratan staff with a sun-shaped symbol adorning the top.
Adventure Notes
Edit
Seraphine's role as The Keeper began with her first retrieval of a stolen relic from the temple of Emprix. She was chosen to retrieve many more of these artifacts, and then to guard them.