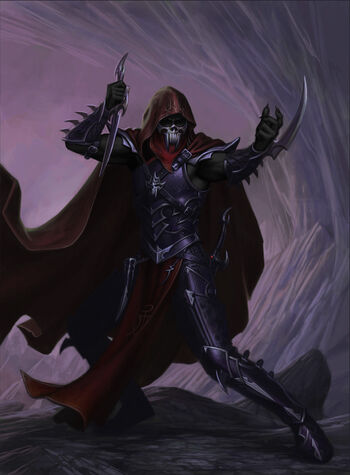 Vital Information
Edit
Nicknames
Edit
Snakefang, Shar, Royal Assassin.
Male.
821.
Description
Edit
Sharhys is a tall, heavily muscled man with skin the color of charcoal. His eyes are a maroon hue and his close-cropped hair is stark white. He is commonly seen wearing dark-colored leather armor and often with a cloak the same color as salt marsh snakes. He favors wielding twin daggers in combat, though also makes use of a blowgun and throwing daggers.
Alignment
Edit
Lawful Evil.
Oros.
Personality
Edit
Sharhys is a taciturn man. He is often quiet to the point of making others nearby uncomfortable. He moves with deliberate slowness, almost as if he is afraid of not precisely controlling every movement. He is devoted to Starveil and the royal family, thus he is devoted to the cause of peace between the nations. Unlike most moriedhel, he is also a religious man, and frequently prays to the Pale One before making a kill. Sharhys is an assassin by trade, Starveil's personal assassin and leader of the moriedhel ninjas in fact. Despite this, he is not an arrogant person and is just as likely to try and stay out of someone's way as not.
His use of snake venom and daggers is nearly pathological, and he will go drastically out of his way to be able to use his signature weapons to complete a contract if necessary. He also has a hard time thinking for himself at times, and will pick up on others' opinions to adopt them as his own in the moment. This can make him sympathetic toward his target, but it also gives him an advantage in getting close to them.
The Emergence, Ashenthorn.
None of Sharhys's blood relatives are alive. He lives with his mate Tatiana, an elven ranger, who is comically small compared to this mountain of a mori.
12th of Garthoc-Lygoc, 2412 Heroes, NA.
Background
Edit
He was recruited at a young age into the moriedhel assassins, and rose through the ranks strictly by his skill and efficiency.
Adventuring Information
Edit
Ninja/Rogue.
Sub-Class
Edit
Stalker.
Prestige Class
Edit
Assassin.
Signature Equipment
Edit
Cobra and Asp, his twin assassination daggers.
Adventure Notes
Edit
None.
Ad blocker interference detected!
Wikia is a free-to-use site that makes money from advertising. We have a modified experience for viewers using ad blockers

Wikia is not accessible if you've made further modifications. Remove the custom ad blocker rule(s) and the page will load as expected.