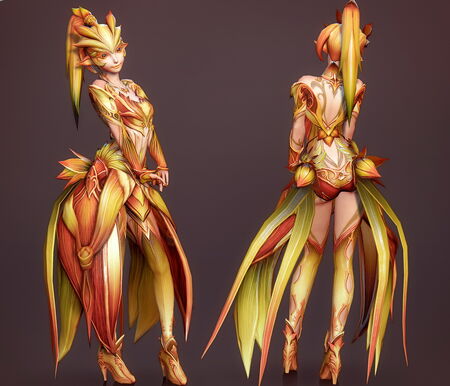 Vital Information
Edit
Nicknames
Edit
Shimmer.
Female.
Wyldling (fey-touched).
5.
Description
Edit
Shimmer is of average height and weight for a wyldling. Rather than the bark or leafy flesh of most of her people, Shimmer has soft pink flesh almost like normal skin, due mostly to her fey blood. She also has much larger eyes than normal, and cute, outward-pointed ears. She wears leafweave armor, the art of which is a holdover from when the wyldlings were wild elves, in bright oranges, yellows, and greens of spring. Large, pretty flowers bloom from the armor as well as her own foliage.
Alignment
Edit
Neutral Good.
Personality
Edit
Shimmer is someone best described as nice. She is very friendly and eager to help people, though sometimes her absent-mindedness and surprise bouts of uncoordination make her more of a menace than an aid. She can be very shy, yet talkative at the same time, and often stutters on her own words to the point that she ends up apologizing and getting embarassed. She loves cute things and is extremely girly.
Despite her impressive agility, she can be very clutzy at times. Also Shimmer is naive and absent-minded.
Triskell Forest, Kirsvald, Lados.
Numerous knot-mates throughout the forest of the Faerie King.
11th of Dyoc, 295 Unification, AM.
Background
Edit
Like most wyldlings, Shimmer knew from the time she was born what she was meant to do. She found the King of the Fey, Ivannithil, shortly thereafter and offered her services. She was tasked with watching over the shimmerlings, a race of tiny, collectively intelligent faerie folk. After several years of loyal service, she stumbled into the camp of the Heroes of Silverus as they passed through Triskell Forest after one of her shimmerlings brought her to watch Fatima dancing. The little one was inseparable from the ifrit dancer, and so Shimmer agreed to travel along to watch out for the little shimmerling.
Adventuring Information
Edit
Sub-Class
Edit
Prestige Class
Edit
None.
Signature Equipment
Edit
Deadeye, her bow that was blessed by the Faerie King.
Adventure Notes
Edit
None.
Ad blocker interference detected!
Wikia is a free-to-use site that makes money from advertising. We have a modified experience for viewers using ad blockers

Wikia is not accessible if you've made further modifications. Remove the custom ad blocker rule(s) and the page will load as expected.