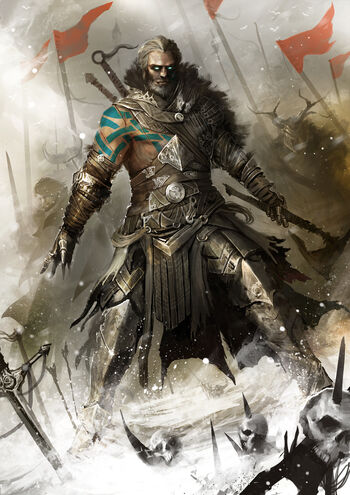 Vital Information
Edit
Nicknames
Edit
Sig.
Male.
Ysgardian.
Unknown.
Description
Edit
Sig is a mountainously tall and muscular man. He is well over nine feet tall and weighs nearly 400 lbs. of pure muscle and bone. He has ash blonde hair, a close cropped beard, and blue eyes like icicles. His torso, shoulders, and arms are covered in tattoos that describe his greatest battles in Ysgardian traditional tribal markings. He doesn't typically wear armor, though plated gloves and boots and an animal hide cloak are sometimes among his wardrobe choices. He wields a greatsword in one hand and a greataxe in the other as if they were children's toys.
Alignment
Edit
Chaotic Good.
None, previously Hizos.
Personality
Edit
Sig is an intense man to be around. On the one hand he is a bloodthirsty murder machine that never backs down from any challenge. On the other hand he has a strong set of morals that guide his actions and frequently have him coming to the aid of those weaker than him... which is pretty much everyone. And on the third hand, as a native of Ysgard, an Outer Plane, his customs and actions are sometimes so alien to the inhabitants of Torar that he causes trouble for himself without ever meaning to.
Sig's only flaws are social, but they are very nearly crippling. He cannot relate to almost anyone he meets, and often drives them away when he believes himself to be acting with honor and even nobility.
The Outer Plane of Ysgard.
Sigurd, brother.
Unknown.
Background
Edit
Whoever Sigvardr was in life, he was reborn when his soul reached Ysgard. He and his brother Sigurd fought at Hizos's side in many battles against those seeking to invade the Prime Material Plane. Then Sigurd vanished at the same time as one of the Ysgardian field hospitals was overrun and slaughtered by invaders. Thought to have betrayed his brother, Sigvardr was sent to track Sigurd down, which led him to Torar eventually. Unable to pick up his brother's trail once here however, he turned to Mnemnosyne to discover his whereabouts. While traveling to meet the Sage he met Reggie Sinclair and company, and joined them for a time. Eventually he left the time lord and found his brother fighting with the yautja against the Infestation. Sigurd redeemed himself in Sivgardr's eyes and the two have brought a small number of their kin to aid in the fight against the Infestation.
Adventuring Information
Edit
Barbarian/Fighter.
Sub-Class
Edit
Tattoos.
Prestige Class
Edit
None.
Signature Equipment
Edit
The greatsword Earthcleaver and the greataxe Frostreaver.
Adventure Notes
Edit
Almost by accident while chasing Sigurd, he found the fabled Book of Stasis, a key item in Reggie's campaign to stop Kahlia Durath's plans.
Ad blocker interference detected!
Wikia is a free-to-use site that makes money from advertising. We have a modified experience for viewers using ad blockers

Wikia is not accessible if you've made further modifications. Remove the custom ad blocker rule(s) and the page will load as expected.