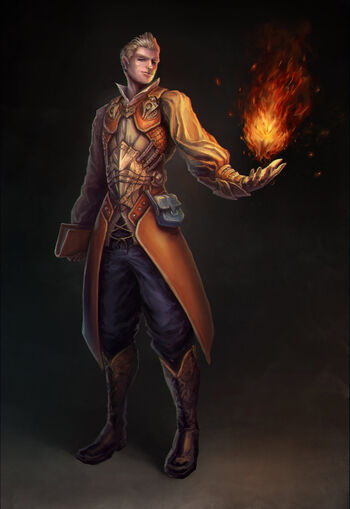 Vital Information
Edit
Nicknames
Edit
Teren.
Male.
26 biological age, 331 chronological age (due to a chronomatic event that caused a time skip).
Description
Edit
Teren is just under six feet tall and has a somewhat athletic build, especially for an arcanist. He has light blonde hair, gorgeous azure eyes the color of a desert sky, about halfway between blue and cyan. He wears clothing that is a cross between mage robes and nobleman's attire, which sometime looks like a longcoat, in shades of yellow and orange.
Alignment
Edit
Lawful Good.
None, or Nerdoth.
Personality
Edit
Teren is a gentle soul. He is kind and generous, though to balance that he is also a suave and canny businessman, and he isn't afraid to haggle himself a deal, especially if it doesn't hurt any good people. He is extremely charismatic and likeable, and keeps his head in even the most stressful of situations. While he prefers nonlethal methods of fighting, he will resort to lethal, fiery force if necessary (especially if his sister Lexi is being threatened), and he has no compunction against others using violence when appropriate. He also loves children, and frequently donates huge sums of money to orphanages and helps to set up or improve foster homes.
None.
Alkria, a land in a distant alternate dimension. When he was mysteriously brought to Torar along with his sister they awoke on Three Mile Island, a tiny and uncharted island between Lados and Amuan, so that might also be considered his homeland.
Alexandria Oran, sister.
10th of Melethoc, 2902 Heroes, NA.
Background
Edit
Memories of his time before Torar are hazy at best. However, his adventuring career on Torar started when he and his sister were found on Three Mile Island by Triennia Lovesong, who was ferrying a group of supplicants to Mnemnosyne that included Reggie Sinclair and his company. The two men found they had a lot in common, and became fast friends. From then on it was difficult to separate Teren and Lexi from Reggie's side during his further adventures.
Adventuring Information
Edit
Sub-Class
Edit
Solar.
Prestige Class
Edit
None.
Signature Equipment
Edit
Coat of the Sun, his magical robe which grants him powers of light and healing.
Adventure Notes
Edit
None. Teren happily allows and even encourages Reggie to take the spotlight for the deeds Teren performs while with him on adventures. This allows him to focus more on other aspects of his life.
Ad blocker interference detected!
Wikia is a free-to-use site that makes money from advertising. We have a modified experience for viewers using ad blockers

Wikia is not accessible if you've made further modifications. Remove the custom ad blocker rule(s) and the page will load as expected.