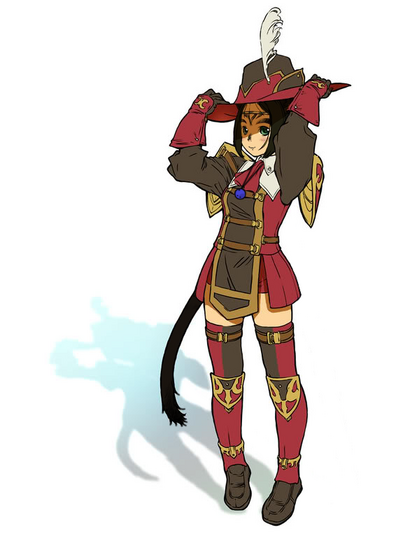 Vital Information
Edit
Nicknames
Edit
None.
Female.
15.
Description
Edit
Trixie was a Mithra, a cat-like humanoid species. She had black bob-cut hair, black-furred cat ears, and a black-furred cat tail. Her skin was pale compared to most of her species, but she did possess some of their characteristic facial markings. She had large green eyes with slit pupils. She wore an abalone shell ocarina on a string around her neck, as this was her bardic instrument.
Alignment
Edit
Neutral Good.
Personality
Edit
Trixie was a quiet, shy, and anxious individual. She preferred to lurk in the shadows of others, and was most often found standing behind Kelailus. She spoke rarely, and in fact did not speak at all until shortly after arriving in Torar. She was easily flustered and excitable, and had no stomach for horror. If one could work past her initial skittish behavior and befriend her, however, she was a friend for life. She was also a kleptomaniac, but had obvious tells which allowed her companion Kel to prevent her from pilfering most items.
Trixie was skittish, anxious, shy, and for much of her life believed to be mute. Her muteness was reactive mutism triggered by a particularly traumatic event in her childhood. Though she eventually was able to speak, she still suffered from selective mutism, where situations that produced high anxiety for her rendered her speechless once more. She was also a kleptomaniac, particularly of glittery objects.
Though her origins, as well as those of Kel and Galina who traveled with her from her homeworld, are unknown, she is considered to be from Lea Monde. Her species was one of tiny upright felines, but when Throng brought her to Torar, he granted her a humanoid body so that her affections for Kelailus might be realized. As Vana'diel, the homeworld of the Mithra species, is one of many that is linked to Lea Monde, he simply chose this species as the template for her reincarnation.
Trixie has no family, and was an orphan even before Torar.
Unknown.
Background
Edit
Though she did some adventuring in her past alongside Kel and Galina, she's never spoken of this time. By most aspects she considers her life to have begun upon reaching Torar. She spent some time in Lea Monde by herself, as she and her companions were scattered upon entering the new world. She reunited with Kelailus at the Faire in Meara. The two spent some time in the company of Reggie Sinclair, but eventually parted ways with the mage and have not been seen since.
Adventuring Information
Edit
Bard.
Sub-Class
Edit
Unknown.
Prestige Class
Edit
None.
Signature Equipment
Edit
Trixie's only signature item was her pearlescent abalone shell ocarina which she wore on a string around her neck.It was carved into the shape of a wing.
Adventure Notes
Edit
Trixie assisted Kel in acquiring the Globe of Aiel, a key component in Reggie's campaign to stop Kahlia Durath's plans.
Ad blocker interference detected!
Wikia is a free-to-use site that makes money from advertising. We have a modified experience for viewers using ad blockers

Wikia is not accessible if you've made further modifications. Remove the custom ad blocker rule(s) and the page will load as expected.