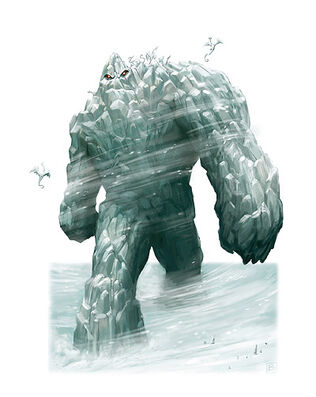 Tundaran was the god of ice and change. Rarely did he stir from his polar beds, but when he did he plunged the world into a new ice age.
The Great Frost, Rimelord.
Current Status
Edit
Deceased.
Alignment
Edit
Chaotic Neutral.
A white square with faint blue wisps of wind.
Portfolios
Edit
Chaos, Entropy, Winter.
Era of Ascendance
Edit
Typical Worshippers
Edit
Only those that revel in the coldest environments worshipped Tundaran.
Avatar Description
Edit
A monstrously huge glacier-like creature, usually with white dragons nesting on his shoulders. Though he was said to move ponderously slowly, his every step remade the land around him.
Known Artifacts
Edit
None.
Associated Holidays
Edit
None.